Xi'an 西安 is home to the Terracotta Army and the starting point of the famous Silk Road. Reasons enough to love it, right? During my Chinese language class, we watched a video about the history of Xi'an which got me inspired for this trip. At that time, I only had one month left in Chengdu before I'd fly back to Belgium and therefore decided to end my two years stay in China with a three-day trip to this magical city. By the way, it was my first solo trip!
Day 1: Chengdu – Xi'an
I traveled by night train from Chengdu East to Xi'an South. I can tell you that Chinese train infrastructure is super convenient to travel. The train ride took me about 10 hours. You get the choice between a hard sleeper (200 to 280 RMB) or a soft sleeper (300-380 RMB). If you choose for the soft sleeper you're sleeping with 'only' 4 persons per section, in contrary to hard sleepers where you sleep with 6 persons per section. I choose the hard sleeper: you could compare the bed to a wooden plank. It wasn't the most hygienic experience so far… The sheets were washed but obviously not clean! But hey, I'm still alive! 🤓
How to get to the city center? Once you get off the train you're still not in Xi'an itself, you're some kilometers away. Walk out of the station and look for bus 920 or 918. This bus ride takes about one hour and costs only 3 Yuan. These buses will bring you to the closest metro station (which is on line 2). Be warned: the buses are always fully packed.
Geography 101: Chengdu is the capital city of Sichuan province, Xi'an is the capital city of Shaanxi Province.
Terracotta Warriors; must-see attraction in Xi'an! Obviously, my fascination for the Chinese culture is very big, so I've always wanted to see the impressive Terracotta Warriors. Once I made it to the hostel I immediately dropped off my bags and left for the terracotta sculptures. Have you ever heard one of the greatest archeological discoveries in the world? The Terracotta Warriors are thousands of clay warriors found in thumbs. Each of them has a unique facial expression and every statue represents a real soldier that has served the army of that time (the Qin dynasty). The replicas were made so that emperor Qin wouldn't be alone in his afterlife. With an army of thousands of soldiers, weapons, philosophers, and farmers Emperor Qin clearly had big plans for his afterlife!
Getting there: The most convenient and cheapest way of getting there is by bus. You can take bus 309 that departs right next to the North railway station. The buses leave every few minutes, so no need to rush! This drive will take about 40 minutes and will only cost 5 yuan. They drop you off at the entrance of the museum.
Tip: Terracotta Army in Mandarin: 兵马俑 – Bīngmǎyǒng.
The Muslim Market
Right after the Terracotta Warriors, I went to check out the Muslim Market. I think of it as a busy, colorful street full of culture. I absolutely loved it. Fun fact: many years ago Xi'an was the starting point of the Silk Road. Thousands of merchants, students, predictors, teachers, etc … would come down to Xi'an from Persia and other Arabic countries. They settled down in the current Muslim Carter of Xi'an. Nowadays it's a very touristic place. I really recommend you to check it out and try some (street) food!
Hua Mountain
Day 2 Once I got back to the hostel and finally had some rest I started feeling sick, weak. At the time I decided to check for airplane tickets to Chengdu (because I really didn't want to be on a 10-hour plane ride in another dirty bed) it was already too late in the evening and no more planes would take off. So I stayed… Until today I'm super glad that I didn't take a plane back. That same evening I went to bed very early and decided to see how I'd feel the next morning. Luckily, when I woke up I felt much better! I immediately left for Hua Mountain – 华山.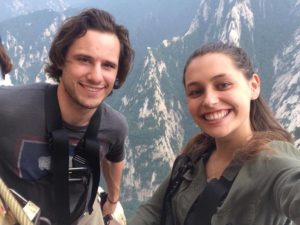 Hua Mountain is located in the middle of China, Shaanxi province. It has several peaks, the highest peak reaches 2155 meter above sea level. I've hiked quite a bit in China but nothing could compare to Hua Mountain. Coming up: a new article about hiking up Hua Mountain. I started off this journey all alone but totally underestimated it. Halfway up my hike I met Cory, who became my mental support for the hike and my travel buddy for the rest of trip!
Walking around Xi'an
Day 3 wasn't very intensive for me. I didn't want to have a busy day of sightseeing with sour legs from my hike the day before. Cory and I just walked around without a plan and stopped at random restaurants to pleasure our bellies one last time in Xi'an. Our brisk walk ended when Cory headed to the airport and I headed to the train station. My train back to Chengdu left around 18:00, so I'd had to leave on time to catch that train since the commute takes forever.
Recommended things to see in Xi'an during a walk
Xian City Wall: This landmark is one of the largest defense barrier in the worlds. You could go for a walk or a ride on a bicycle. Entry tickets cost 45 RMB
Bell Tower
Muslim Street: see the Muslim Market. Ps, look for small corridors within the area to find some 'fake' markets. 
Drum Tower: located in the city center & next to the Muslim Market
Small Wild Goose Pagoda
Shaanxi History Museum
Xian Museum