Keta: where a fresh breeze and welcoming people will make you feel ready for holidays. During my stay in Ghana, I had the chance to travel here in order to prepare for the tourism program of Emo Foundation. This city is an amazing place to get some beach time and to charge your batteries on a small getaway. I must be honest, it's a great destination but I wouldn't recommend traveling there for more than two nights.
What to do?
Fort Prinzenstein
Besides being a holiday destination, it's important to point out that Keta is also home to a dark period of history. Fort Prinzenstein was originally built by Danish traders as a defense during the Sagbadre War but later became a place of slave-trade. It's one of the many forts in Ghana where slaves were taken away from their families and were brought abroad without ever returning. Today, Fort Prinzenstein is a World Heritage Site that is partially destroyed by the sea – just like many other parts of the city that were destroyed by sea erosion 🌊 -.
Ps: big shout out to the guide of this historical place
Cape St. Paul Light House
Before coming to Keta, I've been recommended to visit Cape St. Paul Light House. It's located in Woe, which is a bit out of Keta, so bear in mind that you'll be spending some time and money on getting there (approximately 6 GHS one-way). This particular lighthouse was built by the Dutch in 1901 and is now still in use. To be completely honest, I'm not sure if I put it on my "recommended things to do in Keta" list – but just letting you know it's out there. For a small fee, you'll be allowed to go to the top.
The beach
Of course, the ultimate activity to do at Keta is to relax and enjoy the beach. Sunrise, day time or sunset, they are all good moments to be out and about on the beach. You'll encounter local tourists, foreign tourists, fishermen, etc. At sunset, you'll get the chance to enjoy a short while of horseback riding.
Keta Lagoon
Since we're still on the topic of water… Did you know that the Keta Lagoon is the largest lagoon in Ghana? Unfortunately, due to climate change and human activity (fishing and salt mining), the lagoon has started to dry up. It's possible to visit the salt mines, or just walk along the lagoon at some parts. Usually, your transportation will drive past the lagoon when getting into the city.
Where to accommodate?
In Keta, there is something for everyone. Whether you like luxury or sleeping in a hut: everything is possible. My personal favorite goes out to A&Y Wild Camp. It's the perfect hideout spot located on the beach. This space offers several comfortable huts where you can escape the busy street life of Ghana.
The complete opposite of A&Y Wild Camp is the Aborigines Beach Resort, which I do not recommend because it's far from sustainable and quite expensive. But hey, to each his own taste. I explored a more affordable hotel next to this resort, named the Keta Beach Hotel (-+ 70 GHS for a twin room).
Foodwise, you could either choose to dine at the hotel or go for street food. My travel partner and I discovered one restaurant which is very recommendable: the Cocobay Beach Bar and Grill.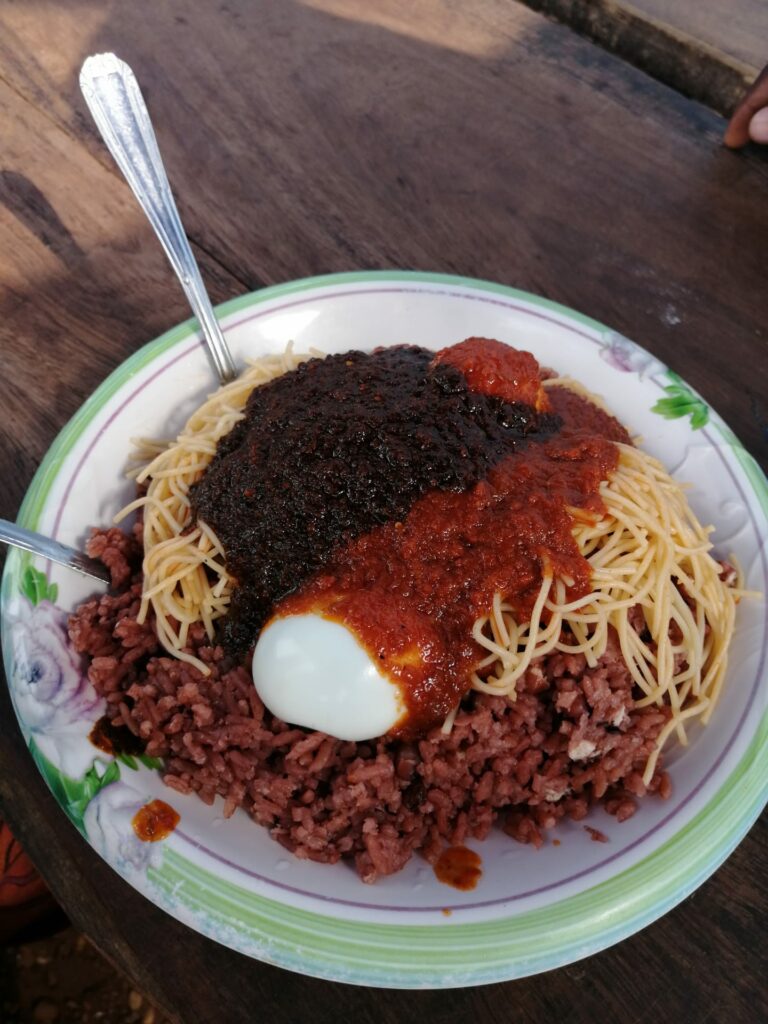 Convinced to visit? You could consider to continue the journey to Ada Foah and Big Ada. Contact Emo Foundation to fulfill all your needs ✌️🇬🇭