Two friends and I decided to pay a visit to the driest desert in the world. Before our departure, many people told us it's an amazingly beautiful place. Once I got there, I (indeed) couldn't believe my eyes. According to me, San Pedro de Atacama is (besides Patagonia) the most beautiful spot in Chile. We also heard San Pedro is really expensive, so we did great research on how to travel there on a budget. Guess what, we prepared pretty well! Let me share our great ideas with you.
How to get to San Pedro?
Coming from Uyuni: The usual way to get to San Pedro is combined with a tour from Uyuni, Bolivia. There are hundreds of tour companies that offer a 3 to 4-day tour through Salar de Uyuni and finally end in San Pedro de Atacama. They will help you cross the border and finally bring you to the center. Flying in from Santiago: This is what we did. We found a cheap flight (60 dollars back and forth, off-season) to Calama Airport. This flight only took us two hours to get to our destination.
How to get from Calama to San Pedro de Atacama?
By rental car: When we arrived at the airport my two friends and I decided to split up and bargain with every car rental company available. The stands are displayed at the exit of the airport. When we finally came to good terms with a certain company we took off and started our holiday! We found a very good deal at Europcar. Before flying in we already checked online what prices we could expect. When making the deal, we asked for a discount twice… and got it twice. Yay us! The final price for 5 days was 169 000 CLP ( +- 220 EUR) for an SUV + 4×4 car. By bus/public transport: If you're not planning on renting a car you could get to the center of Calama by Uber, taxi or shuttle bus; there you should find the bus terminal and get a bus to San Pedro. No need to book in advance, there are lots of choices. If you arrive late in Calama and plan on traveling the next day, I advise you to stay at Hostal El Lao. I stayed there one night on my way back to Santiago and found it to be the best option price/quality-wise.
Why a rental car?
As we traveled by rental car, I can only share tips for this way of traveling. I've encountered many people who did not rent a car and decided to travel by themselves (by the use of bicycles or tours). Seeing San Pedro by bike must be really impressive… but heavy. San Pedro is located in the North of Chile and usually has a warm climate during the day. There are also mannnnyyy climbs. If you're looking for a bike experience I advise to visit Valley de La Luna and Valley de La Muerte by bike. The other option is taking tours. Now, you have to know that San Pedro is one of the most touristic spots of Chile, meaning that the tour companies aren't afraid of asking a high price. I've looked around… and believe me… Tours are REALLY expensive. Especially during high season. So, with the money that we spent on the rental car and the gas (divided by 3 people) we definitely saved some pesos. We saw everything in San Pedro on a smaller budget than anyone who was taking tours. Also, you'll probably find people at the hostel that would gladly join you & pay for gas or rent partially.
Our hostel
The Feel Atacama hostel was recommended to me and I highly recommend it to all of you. It's located a bit out of the center, but that forms no problem if you are traveling by car. It was the cheapest option we found and the ambiance and atmosphere are just great. Of course, you could also try Couchsurfing or camping.
Day 1 – Calama to San Pedro
We drove from Calama airport to our hostel in San Pedro in the afternoon. On this route, you'll be able to make a stop at Cordillera de la Sal. This will give you a first impression of how you're staying in San Pedro will look like: peaceful, beautiful and impressive. Take some time to take some photos or to stretch your legs. Very recommendable!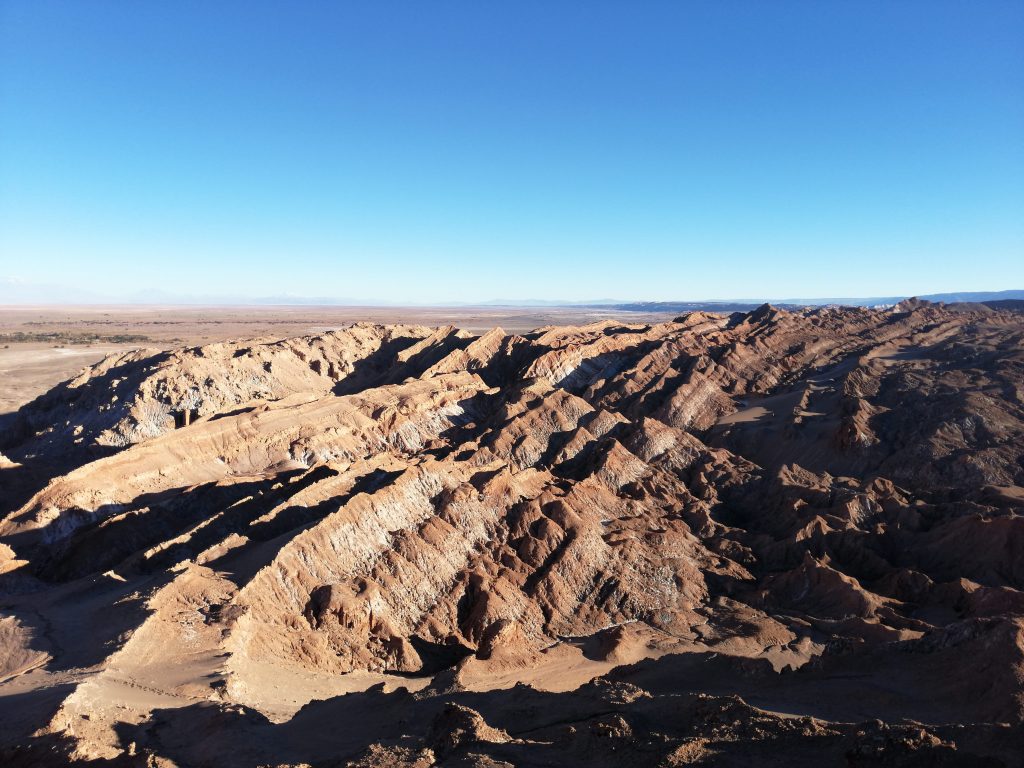 After this stop, we drove towards the hostel. No need to do groceries in advance as there is a local store at 5 minutes walking distance of the hostel. We cooked our dinner, prepared lunch for the next day and joined the caipirinha-evening which was organized by the staff. Great start of our trip 🙂
Day 2 – Ruta 27
We departed around 10 am, together with two Germans we met in the hostel. On this day, we'd be driving on Ruta 27 towards 'Reserva Nacional Los Flamencos'. Before reaching the national park we made several stops: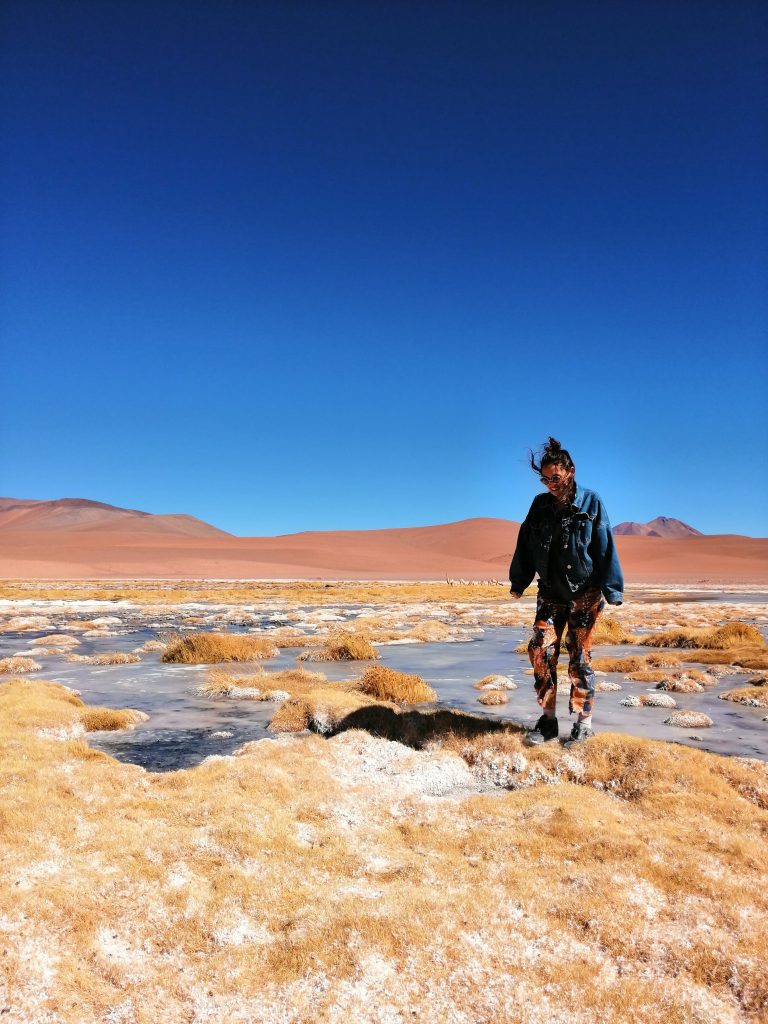 – Vulcano Licancabur: here you could park the car and walk closer up to the volcano. You can't really miss the volcano as it is 5920 meters high. At a certain point, we reached a small canyon. There we had some fun taking pics and enjoying the view.
– Further we drove to Mirador Quebrada Quepiaco: However, we stopped a bit in advance and parked the car at the side of the road. This place was so beautiful! Impressive landscape & many vicuñas.
– We drove towards Laguna Pujsa, which was off-road. It was much fun to drive off-road but the destination wasn't the most impressive one. If you don't feel comfortable driving off-road, then it's not too bad to skip this stop.
– Our next visit was the Reserva Nacional Los Flamencos which is found right after a big curve. You'll need to go a bit off-road. You'll see this sign: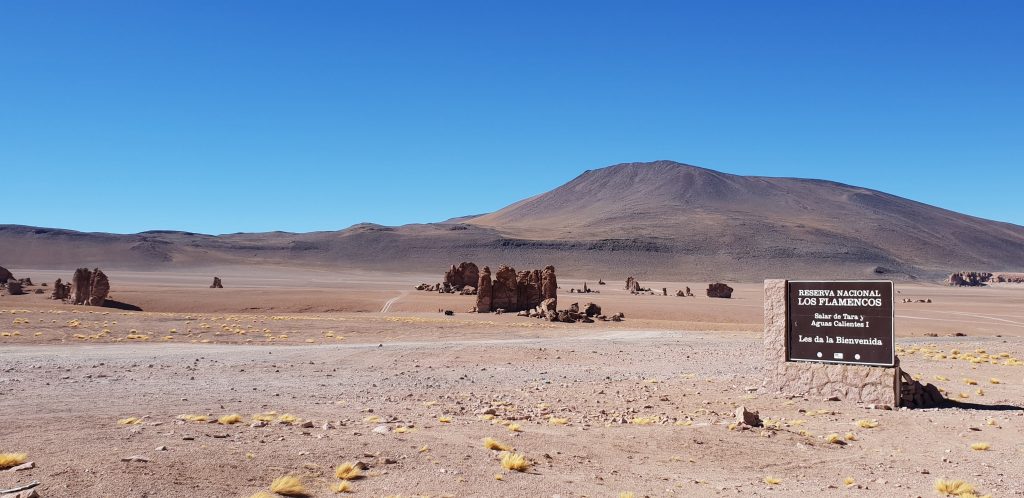 Drive further to see some impressive rock formation and even further to get to the Monjes de la Pacana. (Be careful while driving there & avoid it with a normal car).
From here you could reach Salar de Tara, which is yet another long way off-road. We never got to the actual lake since we were getting really tired of driving off-road, and we were also losing a lot of time to see other places. So, we decided to head back to the main road. From the main road (Ruta 27) we continued to drive toward the border Chile- Argentina, where we passed two other lakes.
– Laguna Aguas Calientes and Laguna Quisquiro: After spending some time there we decided to drive back and find a nice spot to watch the sunset. You should know that this route is quite long and you might need some time to get back. Of course, I recommend going as close as possible to San Pedro center before it gets dark. We found the perfect spot to watch the sunset: we stopped again at the Vulcano Licancabur.
Day 3 – Ruta 23
On the second day, we decided to head southeast on Ruta 23. The final stop on this route would be Piedras Rojas. It's a quite long drive, so we had decided to make 1 stop before reaching the final destination. Actually, we were hoping to see flamingos on day 1 and we thought they'd just be in any laguna we'd pass – but we thought wrong. Somehow, we gave up hope to see these pretty pink birds. While driving to Piedras Rojas we reached 'Salar de Atacama', so that would be our stop before heading further. Mission of the trip completed: we saw flamingos. To enter Salar de Atacama you pay 2500 CLP, and you'll be welcomed by local people that are passionate about the conservation of the park. As we were entering we asked a lot of questions to the man at the entrance, so he decided to give us a little tour. There, we learned more about the types of animals living at the Salar, what they eat, when they bread, etc. We spent about 1h30 minutes in the park. Because we felt so welcome and comfortable we had decided to eat our prepared lunch there, while looking over Salar de Atacama.
After the flamingo adventure, we headed back to the main road & drove through Tocanao. Unfortunately, we got told that Piedras Rojas would be closed. Stubborn as we were we decided to check it out anyway. As the people of the town had already warned us, we came to learn that indeed we couldn't enter. However, a man along the way pointed out where we could find a nice viewpoint.
After Piedras Rojas, my friends and I headed back towards San Pedro. However, it was not the end of the day. Before heading to the hostel there were still some stops to be made. The first one was Laguna Miscanti & Laguna Miniques. (I can't surely say what the normal entry price is. I, as an exchange student in Chile, could get a discount. As a student, you pay 2500 CLP to get it.) Side note: while driving towards the entrance you're very likely to come across foxes. Please do not feed or touch them. Be ethical. Admire them from a distance.
Once you get out of the park, there is one more stop I recommend before calling it a day: Laguna Ojas de Salar & Laguna Tebinquiche. This is the perfect spot to watch the sunset and take nice pictures. Don't stay out too long as it's an unpaved road & still quite some time to reach the center – try not to drive in the dark.
Once we got back to the hostel, we had to get ready for our stargazing tour. The only tour we took (obviously because we do not have the knowledge). My advice: check if there's a full moon or not (if there is, you won't be able to see the stars well) & dress warmly. I'm not going to advise the company I went with because I'm not completely satisfied with their service. There are several tour agencies at the center of San Pedro.
Day 3 – El Tatio Geysers & Caspana
Day three was kind of rough. The girls and I left at 3 am and drove a long way in the dark towards El Tatio Geysers. It's a 2h30min drive and it's completely dark. The nice thing about the dark is that you could make a stop to watch the stars. Believe me, that's really worth it.
We arrived at the entrance of the Geysers around 5h30 am. Again, we had a student discount and paid 4000 CLP pp. Once you get in, drive all the way to the back: there you can find estacionamiento to park your car. There are two good things about being so early: there are no annoying tours (= many people) and, because it is so cold, the geysers are very active. The reaction of the combination of the heat underground and the cold air gives you some impressive views. When I say cold air, I mean … really cold air. We had to endure a temperature of -17 degrees. My hands and toes were freezing off, so come prepared… Also, don't forget to take a small breakfast with you. Another nice thing about being so early is that you can see the geysers at three different settings: first when it is completely dark, secondly during sunrise and finally when the sun is up. Once the sun is over the mountains the temperatures are much more comfortable, so no worries you won't have to endure the cold too long.
In the same park, when you drive back to where you entered, you'll encounter another route which leads you to more geysers and a hot spring. Don' expect too much from the hot spring as the water isn't super warm and there are many people watching you while you're bathing. Kinda awkward.
After the geysers we didn't really have any plan, so we started driving around. Finally, we headed towards the town called 'Caspana' (which we had found on the map). It's located in the middle of nowhere, but it's taken care of really well. There are even a museum and a cultural center. Unfortunately, when we got there, these were closed. It's important to know that these facilities won't open on both Sunday and Monday. Meaning I cannot tell you about the museum, but I can tell you about the scenic drive there. We didn't even pass 1 single car. The views on this road were so spectacular and we saw much wildlife as well: foxes, donkeys, horses, vicunas, llamas, …
When we got back to the hostel we didn't plan anything else in the evening as our day started rather early.
Day 4 – Valle de la Luna & Valle de la Muerte

The following day we wanted to take it slower. We drove off to Valle de La Luna which is pretty close to the center. Many people bike there. Once you arrive at the Valle, you'll have to pass the entrance and pay. We paid 2000 per person (student tariff) which also gave us access to enter the viewpoint of Piedra del Coyote. Here is a summary of the prices in low season: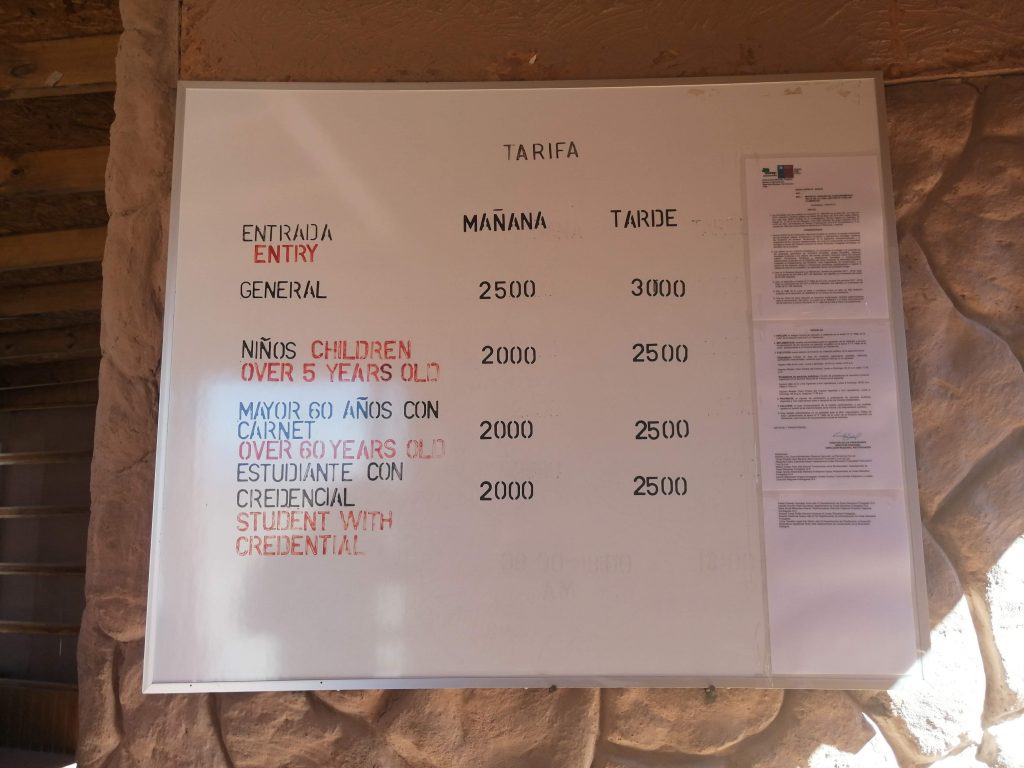 After spending time at Valle de La Luna, we visited Valle de la Muerte (where we watched some people failing at sandboarding – hilarious) and finally, we headed to Piedra del Coyote to watch the sunset. Best time to go to Piedra del Coyote is around 5 pm already, because if you'll arrive at 5:30 pm, you'll have to mingle with the hundreds of tour buses that come. If you're earlier, you can take advantage of taking pics without other people, you'll be able to find a nice spot, and you can enjoy the view quietly for some time. A nice alternative for this mirador to watch sunset would be Cordillera de la Sal. I suppose there will be fewer people as it is a lot less touristy.
Day 5 – Adios San Pedro!
On the 5th day, we had to return our car. I had a bus towards Uyuni around 10 in the morning, so I wasn't able to join the girls on their last stop. They decided to see two more things: Tulor and Chuquicamata. Tulor is the oldest archeological site of Chile and according to my friends worth the visit. After their visit, they drove to Calama where they met up with their tour guide (Avenida Granaderos 4025) for a mine-tour. On this tour, they take you along the mines and give you further explanations. Tip: try to book this tour a few days in advance on this e-mail: visitas@codelco.cl. It's the biggest open mine in the world, and it's free!
Are you looking for ways to travel more sustainable? Learn about the concept and get to know some tips and tricks for traveling sustainably!