Klaipeda, the city of birth of one of my greatest friends. Reasons enough for me to visit. The scenic city of Klaipeda is located along the Baltic coast and is known to be the third biggest one in the country. Not only is it the third biggest city, but it also locates the only port in the country. The charm of Klaipeda lies in its old town, untouched forests, and beaches.
From the airport of Vilnius to Klaipeda
The commute from Vilnius Airport to Klaipeda takes about 3 hours so I wouldn't recommend taking a cab. However, you could get there by bus (or more specifically by minivan). I traveled with the company Ollex and had a good experience (tickets are bought online through their website). Once you reach the airport, you'll walk out and head to your right. There you'll find a small parking lot for the minivans that are used for this type of transportation.
1. Klaipeda and its beaches
My friends and I visited the Melnarage coast to watch the sunset. HIGHLY recommended! Getting there is rather easy as a public bus takes you right at the entrance of the beach. My local friend also recommends 'Dutchman's Cap', as it shows a great forest and beach. There are lots of beaches to find north of the city, so go ahead and find your favorite one
2. Have dinner @ Friedricho pasažas
A picturesque street with a couple of cozy restaurants. During my trip, I passed by and stopped at the … to get myself a delicious bun.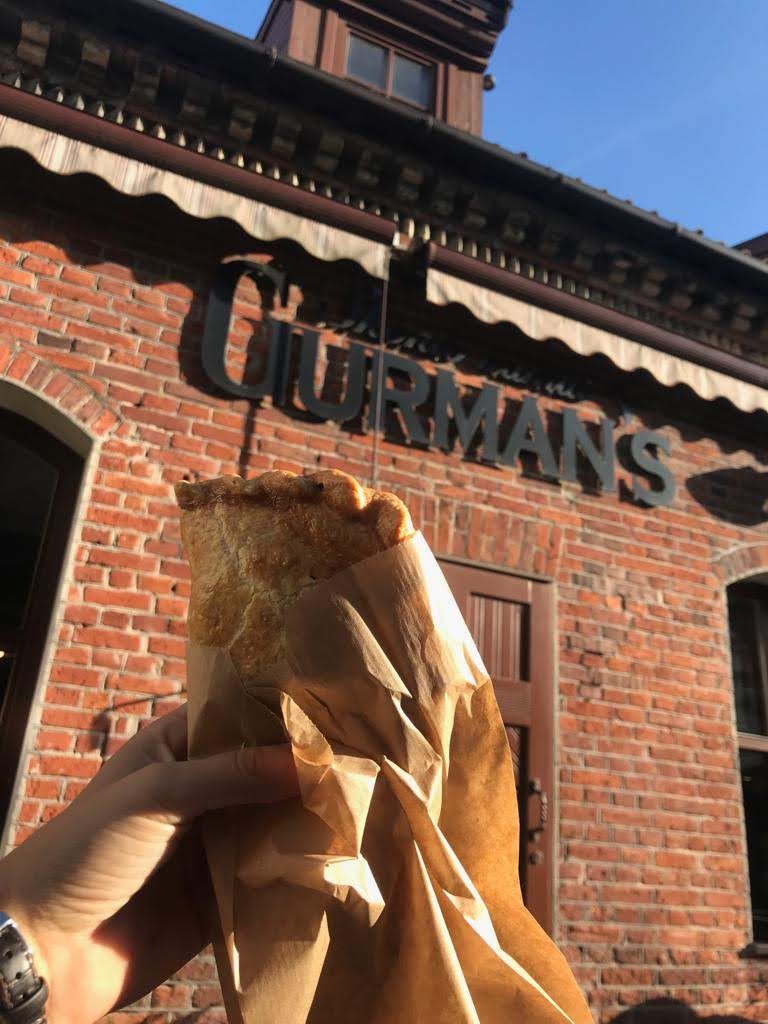 3. Second-hand shopping
I'm a real thrifter, and I minimalize my fast-fashion purchasing. Also in Lithuania, I felt like shopping so my friends and I went to visit the store Humana. I absolutely loved this store. It became one of my favorite second-hand shops of all time.
Address:
– Taikos pr. 29
– Turgaus a. 2
– H. Manto g. 36
4. Stroll along the Dane river
You wouldn't be able to miss the Dane River. It's the river that crosses the city and is connected to the Baltic Sea. Along the water, you'll find a lot of cute restaurants, coffee bars, and shops.
5. Visit the Curonian Spit
The Curonian Spit is a peninsula located 10 minutes by boat from the border of Klaipeda city. The particular piece of land is still Lithuanian country and is bordering to Russia. The easiest way of getting there is by traveling by boat. There are two terminals. Visitors on foot and bike can go to the old terminal, which is the closest to the city. There, you can embark for only 1 euro. Once embarked, you'll get to the island within 15 minutes.
I haven't visited my self but my local friend recommended to write about the Nida sand dunes. This area consists of kilometers of sand dunes which offers a beautiful landscape.