As you might or might not now, my exchange to Chile began the first of March. My travel partner and I decided to leave for South America a bit earlier and take some time to discover Peru. I'm super glad I did: I've deeply fallen in love with the country and the Peruvian culture. Besides from me loving the country, I've got many reasons to share my itinerary with you. Budget wise we did a good job, and I personally think we saw a bit of everything that the country offers. Perfect combo, no?
Iquitos – day 1 to 2
Our adventure started off by flying in from Brussels to Lima. We didn't leave the airport just yet as we had booked another flight straight to Iquitos. We spent 4 hours waiting at the airport for that next flight. I really recommend to avoid waiting yet another few hours after an international flight, but in this case, we immediately wanted to fly north in order to be able to travel downwards.
Iquitos is a city located in the middle of the jungle, which connects tourists with their future jungle experience. We stayed in there for about two days before we'd start our 5 day-jungle trip.
My 3 tips for you:
Check the timing of the year: rain season or not?
Bring repellent (a lot!)
The Amazon Jungle – day 2 to 6
We stayed at the 'Ayahuasca Ecolodge' with Louis as our local tour guide. Oh, what do we love this man! Despite being there during the rainy season and being eaten by mosquitos, it was one of the most interesting experiences so far. Regardless of the several hikes I've committed myself to, I have never had been this close to nature. We stayed at the lodge for 4 days, 3 nights. Read here more on how to book a stay in the jungle.
My 3 tips for you:
Stay at least two nights
Buy enough bottled water to take along
Bring a headlamp and breathable clothes that cover your skin (arms and legs) completely
After these few days in the jungle, we traveled back to Iquitos by boat where we stayed for one more night before we'd fly back to Lima.
Lima – day 8 to 10
After this intense experience between the tall trees, snakes, insects, and air thick environment we had decided to spend some days in the capital city of Peru: Lima. We stayed at a random hostel we found last minute, rested out prepared ourselves mentally for the next heavy adventure. Besides resting and strolling around, we didn't do much since we knew we'd come back to Lima later on our trip.
Huaraz – day 10 to 17
It is only a 7-hour bus ride to get from Lima to Huaraz. Oh, do I love this place. Huaraz is known to be a paradise for hikers and nature lovers. Coming from Lima and Iquitos we found the weather a bit colder. Chilly weather, coming along with a lot of rainfall. Especially at night. The city has an average temperature of 14 C, with a good deal of rainfall during the summer months.
But hey, still no reason to hold you back! As I mentioned before, it's a paradise for nature lovers! We joined a 3-day trekking into the Andes Mountains: the famous Santa Cruz Trek.
The tour company we traveled with was Galaxia Expeditions and it totally satisfied our needs. Of course, if you're an experienced hiker you could do the trek without a guide. Besides from the Santa Cruz trek, Huaraz offers many other trekking opportunities such as Laguna 69 (1-day trek), Huayhuash (multiday trek), etc.
My 3 tips for you:
Get off your lazy ass and go hiking/trekking
When you trek/hike outside the season be prepared for lots of rain
If you decide to trek/hike with an agency: negotiate & compare
Lima – day 17 to 20
Thanks to past travels we had met great people from Lima, they gave us the best local experience ever. There's plenty of things to do in the capital city of Peru: bicycle tours, paragliding, free walking tours, party, beach, etc. Of course, despite the local encountering we still felt obligated to be the typical tourist. I very much dislike water but I still got convinced to go swimming with sea lions, didn't regret it a moment (maybe a little bit)! There isn't too much information about this activity found online, so go ahead and check out my tips for swimming with sea lions 😉
My 3 tips for you:
Try to get to know some of the nightlife of Lima
Do a free-walking tour
It's a big city; be aware of pickpocketing
Cusco – day 20 to 23
Cusco is known the be the cultural heart in the Peruvian Andes range: Macchu Pichu, Sacred Valley, hiking, rafting, … As we only had a few days to spend in Cusco we decided to participate in a tour that'd visit several places in one day. It was a good tour and lovely to have seen most of the places in a short time but of course, I recommend taking your time to see these beautiful spots.
Chinchero
Moray
Maras
Urubamba
Pisac
Aside from these impressive places, there are also many interesting museums found at the city center, such as: Museo de Historia Natural, Museo Inka, Museo de Arte Precolombino. Peru wouldn't be Peru if you wouldn't encounter massive markets; my favorite market was the Centro Artesanal Cusco. Stroll around, found some cheap food and juices, get a souvenir, …
Accommodation wise we stayed at the (not so international) Incama hostel/hospedaje. We booked a private room and found our cheapest option here. Friendly people, big room, central location, not too expensive.
My 3 tips for you:
I've skipped Machu Pichu – don't make the same mistake as I did!
Avoid eating out at the city center of Cusco, try to find cheaper places around.
Negotiate with the tour companies.
Puno – day 23 to 27
We arrived in Puno without a plan. With no accommodation yet, we figured we would just let it come to us. We came from Cusco to Puno by night bus (+- 9 hours), meaning it was only 6 o'clock in the morning when the bus arrived. We saw the sunrise over Puno, so that was definitely worth it! Of course, we were worrying a bit that finding accommodation at this time might be difficult… But nope! As we were walking into the center we encountered a lady offering accommodation at a hospedaje. The price was really fair, and later on -when we talked to other people- we got to know that we had found the cheapest option. Cheers to that! Arriving at Puno feels like going back in time: many locally dressed people and this time not for tourism reasons.
The reason why we visited Puno is because of Lake Titicaca. Puno is the highest navigable lake above sea level but besides that, it's also very popular with its floating islands.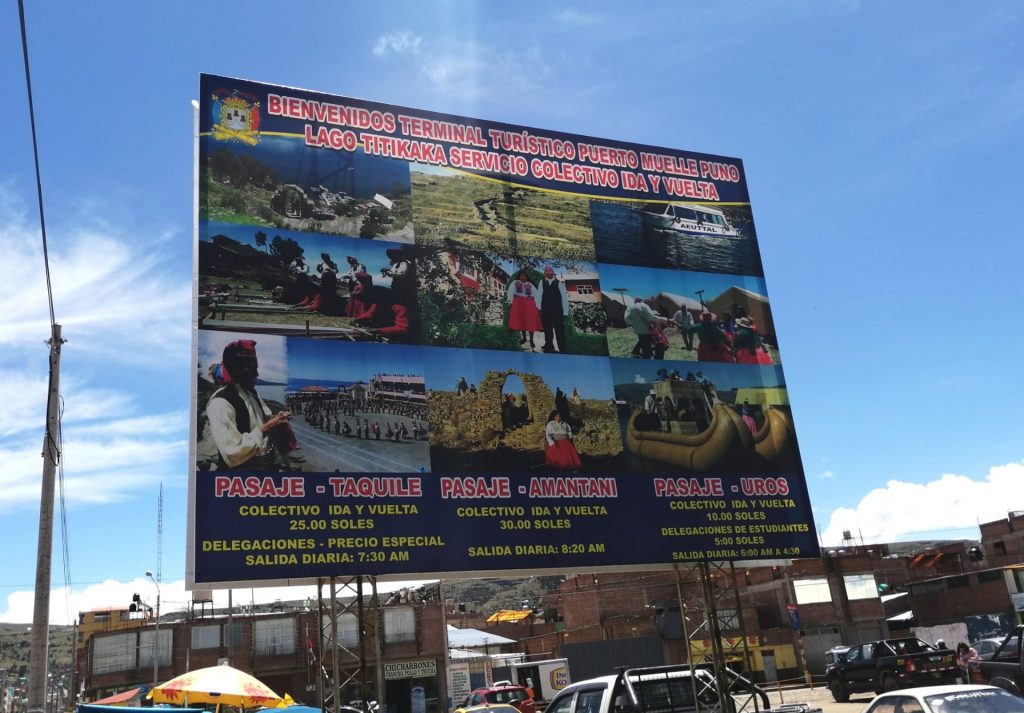 Don't expect much from the Uros island. I really felt like being trapped in a zoo, overwhelmed by the 'locals' asking for money in all kinds of ways. Of course, the floating island is really something you need to see when there, so don't skip it if you're there.
I heard people talking about a homestay at the floating islands, and they had a great experience. Maybe, if you have enough time to travel, this might be something you'd like to look into.
The next stop of the boat was the Island of Taquile. Be aware, it's quite a climb to get to the main square… But absolutely lovely. Even though the boat said they are just transportation and not a tour, the had planned on eating lunch together at a restaurant at the main square. We just sneaked out from the group so we could go on by ourselves. We found this lovely family-owned place that I can only recommend. At that moment we really regretted not bringing any stuff to sleep over at their hostel. They were very kind and their prices aren't high. So if you are planning on spending the night at Taquile island, this is the place to be: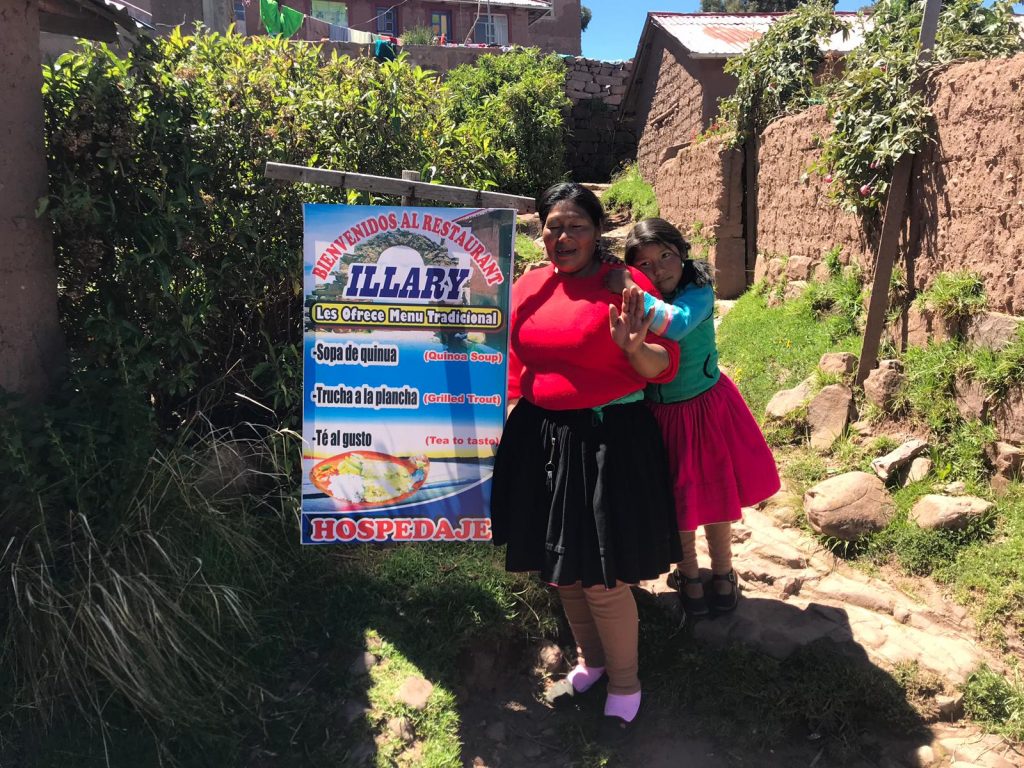 My 4 tips for you:
Spend the night at Taquile Island
Don't just accept the tour offers of vendors on the street. Go to the port and book your trip there.
Avoid hostels and try to find hospedajes, much cheaper!
Wander through 'Calle Lima' at night.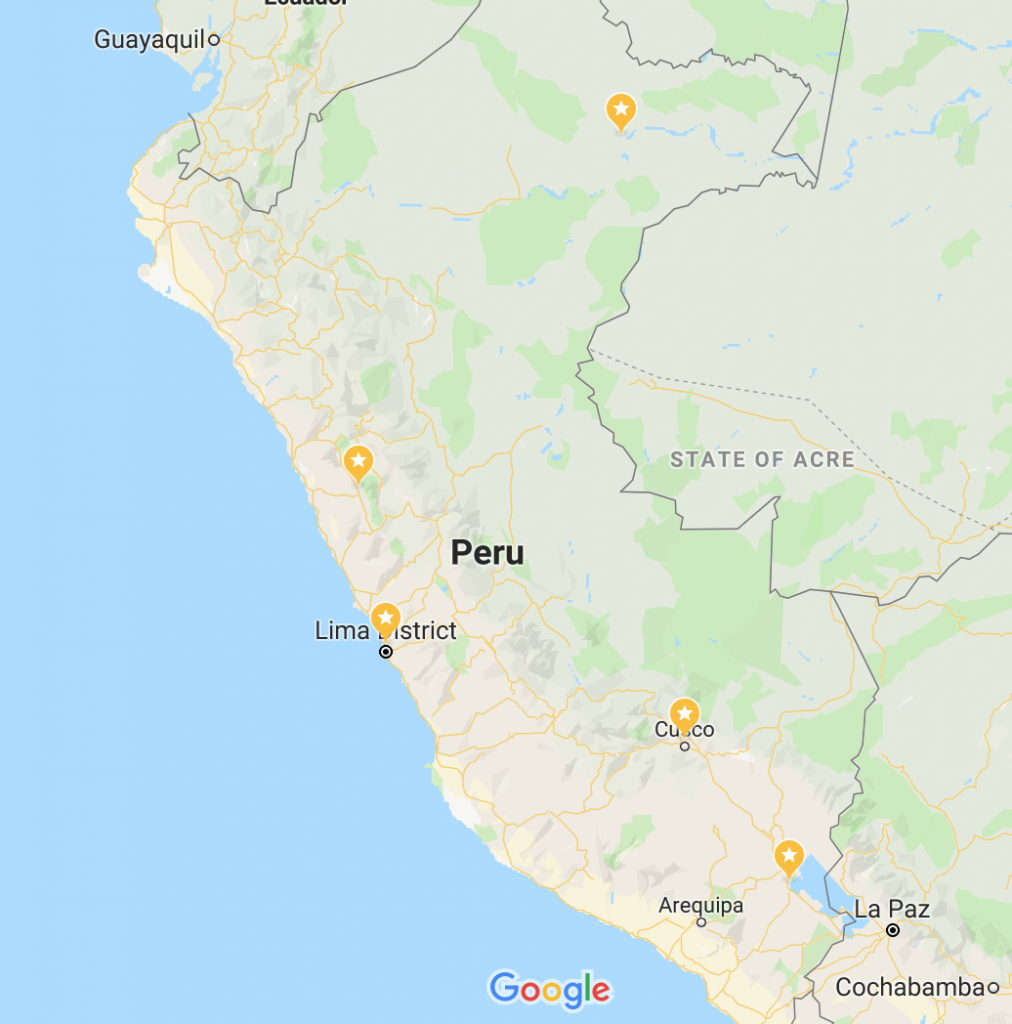 Border crossing Peru & Chile – day 28
Puno was my last stop in Peru before heading to Chile. This is where I continued traveling alone. From Puno, I traveled to Tacna, where I took a bus to Arica (Chile). Unfortunately, I had limited time during my travel to Peru. We weren't able to see the whole country, sadly. Other must-see places in Peru are (according to travelers I've met along the trip):
Machu Picchu – Depart from Cusco. I consciously skipped Machu Picchu & Rainbow Mountain, however, I don't recommend skipping it. For the Dutch readers among you, read here how to get to Machu Picchu on a small budget.
Arequipa (close to Puno)
Huacachina (desert oasis)
Mancora (beach)
Colca Canyon (south of Peru – hiking)
Any other recommendations? Questions? Please let me know, I'd gladly listen!
Liked it? Pin it for later!