For this article, Nyala and I put our heads together to spread our advice and solo travel experiences throughout the World Wide Web. Because hey, this is what the blog is about… right? 😉
Some time ago Nyala contacted me seeking advice on solo female travel. She asked me for some general travel tips and more information on the financial aspect of her future lifestyle. Now, she is fully enjoying her gap year and totally rocking life.
So now, the essence of the article. Solo (female) travel. We'd like to start off by saying 'it's freaking 2018'. Take advantage of all knowledge and power that we -people- have acquired and shared throughout aaaall this information on the Internet.' Benefit from the internet, from the other technological advances and from the ways of transportation that are available today. Agreed to that? Then continue reading for our tips as a solo (female) traveler. By the way… We put female between brackets because we are both female and we're the ones to come up with these tips 😉 But I'm sure they're applicable to everyone!
Traveling solo is a real challenge. Sophisticated, but still a challenge. Yes, there have been moments that I haven't felt too safe, and yes, I've had difficulties. But that makes us who we are, right? I'm pretty sure this is what every solo traveler will tell you.
Take care of your valuables. Always keep them safe. Just a quick reminder: valuables aren't only the (over)expensive smartphones and cameras we own, but also your passport and other forms of ID. Losing a passport in a foreign country could lead to many difficulties and troubles. We cannot stress the importance of your passport. Just to keep it safe we recommend you to leave it at the hostel or hotel you're staying at. Locked away. Take a picture or copy your passport and/or other important forms of ID. By doing that you don't have to carry the valuable travel-permits and IDs to a bar, restaurant, museum or whatever place you go. Bring enough locks with you, so you can lock away your valuables if needed.
Another tip we're giving you is (and this should be common sense): be aware of pickpockets. They're everywhere and they're fast. Maybe you can bring two wallets on your trip: one that you take with you while being out and about, the other one (with -obviously- some extra cash), you keep aside with the other valuables. That way, you'll always have a back up when things go wrong!
Make sure there's at least one person that knows where you are. Obviously, don't text or call that person anytime you take a step … Just tell someone about your general itinerary or plan of the day. It might be someone you met at a hostel, a member of the staff, a roommate, or even a friend at home. Another tip we'd like to add is to make a small emergency contact list for whenever things go wrong. 
Carry information about the hostel/hotel with you.  Carry around a business card or note of the hostel/hotel you're staying at. Imagine sitting in a cap, somewhere in the middle of nowhere and not being able to pronounce the address right.
Get your shit together. When you're at a new place, try to act like you know what you're doing. We know it's not the easiest thing to do but if not, you'll make yourself vulnerable to evil-minded people. So, try to avoid opening a map in the middle of the street and enter a shop or a restaurant to figure out your way. Try to figure out the destination by understanding the map and orientation point.  Let's all take one minute to appreciate the existence of the Internet. Have you ever heard of this great app called 'Map.me'? Check it out, very useful while traveling ling and even without internet connection.
Don't be shy; socialize! Traveling alone is all about exploring ourselves and meeting new people, right? Meet other travelers. I'm sure they'll enlighten you with tips, new friendships, and great adventures. Look for the backpacker areas and sleep in hostels, these are the most solo friendly locations you'll find. And… hostels are usually cheap! 😉 
Of course, there is always a "but" when it comes to talking to strangers. If you meet new people, make sure they do not have any bad intentions before telling them where you are staying or where you are going.
Get off your lazy ass. Wherever you go, you'll find lots of different ways to transport from one place to another. Public transport is always a good idea: it's usually the cheapest and fastest option (in big cities). But if you have trouble figuring out tramlines or busses, you still call a taxi or rent a bike.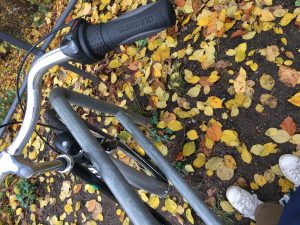 Special tip form Nyala: Besides public transport, I highly recommend renting a bike. You will see way more of the city/place you are staying, get around faster and you'll be able to orientate way better than if you would've taken the underground. While traveling through Europe by train, I often cycled around in the cities I was staying at. Usually, my hostels had bikes available for a small fee or even totally free of charge.
There are even other ways if you don't like the idea of taking public transport or renting a bike! The apps "Taxify" and "Uber" are really helpful. The driver will come to wherever you are and you will be able to see the exact location of the car when the taxi is approaching. The less convenient aspect of these apps is the need for wifi or mobile data.
Safety first! As we already mentioned above, be careful when you meet new people and make sure they don't have bad intentions. And also, listen to the locals. If they tell you not to go to certain areas or places, don't go. They live here and know thing better than you do. Just be conscious of the neighborhood you're walking through 😉  
Last but not least, probably the most important part of your trip: enjoy! Try new food, explore new cultures, face your fears, take a lot of pictures, videos, and so much more! Have the time of your life exploring the world as a pro solo traveler!
Cheers!
Joyce & Nyala
Follow Nyala and her adventure on Instagram and check out her travel blog!