Welcome to yet another article about a lovely country called: the Netherlands! In this section, I'll mention 8 things you might not know about this marvelous city (yet). Cheers!
Amsterdam has it all: canals, a nice atmosphere, sex shows, legal (soft) drugs, etc. It is the city where controversial freedom is present. Personally, I think Amsterdam is one of the most charming cities in Europe. It's not a secret that I love the Netherlands -which isn't common to say for a Belgian-, and after reading this article I'm sure you'll love it too. 
And yes, you might think you know Amsterdam: It is the capital city of the Netherlands, you can buy weed legally (for personal use), the red light district is where you can find prostitutes, the house of Anne Frank, Vincent Van Gogh, … I'm sure you know it all. But what if I told you that Amsterdam is more than that? Let me enlighten you with fun facts about this precious city that you didn't know. 
Amsterdam in the local mouth is 'Mokum'. Mokum is derived from Hebrew, meaning 'place'.
Amsterdam counts more canals than Venice. The total length of all canals together is 100 km
(328084 feet). The century canal ring is declared to be a UNESCO World Heritage Site in 2010


There are more than over 2 500 houseboats floating on the canals of Mokum.

The 'IAmsterdam' sculpture has been captured on camera countless times. It is the city's most photographed object. However, all these posers and photographers don't know the purpose of the sculpture: In 2005 Amsterdam decided to start a campaign to rebrand the city. 'Iamsterdam' is one of the actions they took. The sculpture is located right in front of the Rijksmuseum.

Amsterdam counts more bridges than Paris.

Unlike other countries (for example Belgium) the royal family doesn't live in the capital city Amsterdam. Yes, for the smartypants among us: The Netherlands is a kingdom.

The smallest house in Europe can be found in Amsterdam. It is 2,02 meters wide and 5 meters deep! (6,62 feet wide and 16 feet deep) The tiny house is located in Oude Hoogstraat 22.

The name Amsterdam originates from 'een dam' (English = dam) in the river Amstel. Amstel + dam became Amsterdam.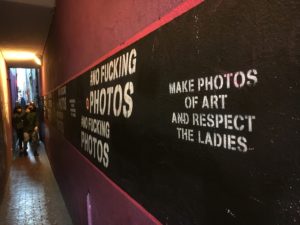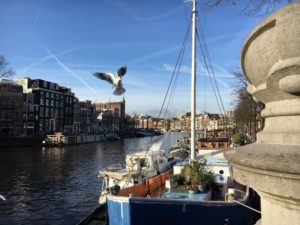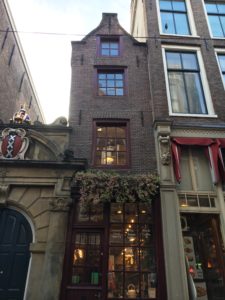 If you liked my article about A'dam, make sure to check out the city's biggest rival: Rotterdam! Ps, make sure to check out part two of this article as well! (coming soon)