Another guest post about Ethiopia from Lella. Number 2 out of 3. Enjoy!
January 10th, Addis to Dessie 
On the morning of Tuesday, January 10, I met Meg at our favorite juice place located at Bole Dildey (Bole Bridge). If one ever goes to Ethiopia, one does not simply leave without trying the juices at the juice places. They are scrumptious. We had juice, I had 'sprice' (a mix of all the fruits available) and Meg had an avocado one. After we had our juices we headed to the bus station known as Menahariya, which was a few kilometers away from Bole Dildey. 
Menahariya is a pretty crowded place, people coming into town, people going out of town, and people not really going anywhere but are there for the sheer buzz of it all. It can be quite hectic. Not to mention the fact that me being local and having to travel with Meg, a foreigner, is a completely different experience than just two locals traveling. So it was one local and one-foreigner woman. We drew a fair amount of attention to ourselves just because of the above-stated fact. The drivers of the buses and their assistant drivers were all suggesting locations on where we should go and why their bus was the right one for us, and that it is going to fill up in no time and that we should hop on as soon as possible. They also have a tendency of using their hands to herd me and Meg like cattle to their vehicles which we obviously didn't stand for. Confronting them with "Hey, don't touch me!" doesn't bode well for them and won't end well for us… after all we are trying to take their buses, it is best to not have an attitude for they will assume that you think you are better than them and so forth. In the end, all you can do is just try to keep some distance. One thing when communicating with them is to be as friendly and as chill as possible. Down to earth. But not too down to earth. Because they will try to take advantage in terms of making you pay much more than the actual price. There is a fine line I tell you, finding that might be a little tricky but once you do it is going to be a sweet ride.
We found a guy who looked legitimate enough and was selling tickets to Dessie, we wanted to go directly to Lalibela but there were no direct buses there at this time (around 11 AM). Usually, the direct buses leave at 5 am and also tickets are purchased a day before. So, we decided to buy the tickets to Dessie and off we went.
From Addis to Dessie it is 387 kilometers, and it took about 8 hours to get there. After driving for a few hours we stopped for a late lunch, they rushed us off and on the bus within 30 minutes. Lunch was decent enough, nothing to brag about really. Below are sceneries and goats that caught my eye on the way to Dessie.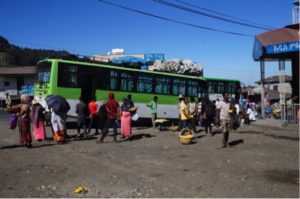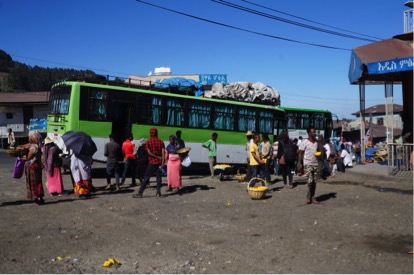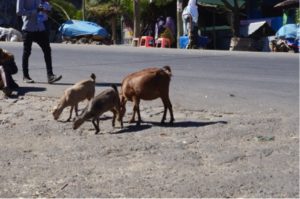 January 10th, Dessie 
We got to Dessie around 7-8 pm. Meg and I looked for a hotel, found one that claimed it had Wi-Fi, and when we got to the room the Wi-Fi signal was too weak we couldn't even connect. I informed the staff that one of the main reasons we are in this hotel is because they have Wi-Fi and if there is something they could do so we can connect to the Wi-Fi, such as give us another room. They said they couldn't offer us any other room because they have one bed, and two women aren't allowed to share a room that has only one bed (company policy he says, wtf right?). Finally, the owner comes and says how he isn't the service provider as in the Wi-Fi service provider and that he cannot construct us another line just for us. And that was our queue to get the hell out of that hotel. Right across there was another hotel with cheaper prices and also claimed that they had Wi-Fi. We booked a room… no Wi-Fi but really sweet staff, which is all you need when it comes down to it. Once we got our shelter for the night sorted we decided to get some food. We grabbed some food, again not much to brag about. I have to mention how cold it actually was, coming from China winter season I was not expecting this type of cold when I returned back home. It was 1 degree Celsius. We were coooldddd and not prepared well for it. We went back to our hotel and called it a night.
January 11th, Dessie
Woke up next morning, Wednesday, January 11. I had forgotten to buy a toothbrush the night before so I went out to get one to realize the view from our room's hallway was amazing. Photos below.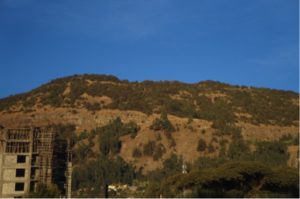 We got ready, checked out in search for some breakfast before we continued to our original destination. We walked around for a bit and found this cute little place that looked like it had some decent food. Now, this is definitely something to brag about. Meg and I had 'ful' not sure how to spell it, but it is basically beans seasoned with some butter and spice (we had the fasting version, but as delicious, yummyyyyy!!). I had to take photos of the menu and also the cute little place.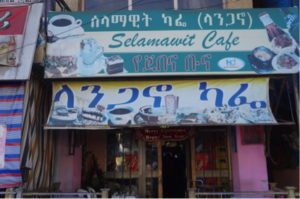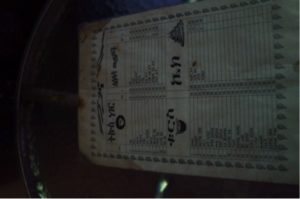 Lella Misikir, 木兰
Like her writing? More articles of her coming & definitely check out her blog too!
Interested in being a guest writer too? contact me!